Our 2016 Saturday Sampler Quilt, Farm Girl Vintage Sampler by Lori Holt
Beginning January 2, 2016, join our sampler series with Lori Holt and Riley Blake Designs with this great new quilt, Farm Girl Vintage.
Purchase your book for $29.99 as your teaching tool, then we will offer 12 monthly kits with two 12 inch blocks each month, or 24 blocks total. We will choose our favorite 24 blocks from the book of 45. Make the Country Fair Quilt at 60.5" x 74.5" and then have twelve more 12" blocks for pot holders, table runners or any of the wonderful projects you see in Lori's book. Cost of the sampler is $175 total (or two payments of $90). Sign ups in early November.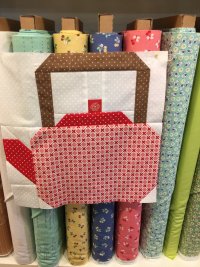 Kettle's On and Winter Star
February Blocks are Baby Chick and Pie Cherry.
Nancy's six inch quilt featured above.
April Blocks are Mama Hen and Baking Day
Free Pattern on Lori Holts blog. Bee in My Bonnett.
Farm Girl Vintage Sampler
Our palette from two collections: Modern Mini's and Calico Days. Cozy Cottage Calendars and strip rolls too.
We have the fat quarter and fat eight panels in both collections. And, in our Applique Club we are starting the Bloom Quilt using the templates. Stay tuned for more pictures.
Kits: The Table Cloth Quilt and The Baby Chick Quilt in Pink and Yellow.
Join Now.
gatheringfabric@aol.com
Jan: Kettle's On and Winter Star
Feb: Baby Chick and Pie Cherry
Mar: Woolly Sheep and Egg Basket
Apr: Baking Day and Mama Hen
May: Churn Dash and Cool Threads
Jun: Old Glory and Feed and Seed
Jul: Corn and Tomatoes and Pin Wheels
Aug: Canning Season and Summer Star
Sept: Haystack and Sunny Sunflower
Oct: Scrappy Maple Leaf and Patchwork Pumpkin
Nov: Peas and Carrots and Grandmas Quilt Block


Dec: TBD
March Blocks: Woolly Sheep and Egg Basket
First 12 Blocks in the series.